Tasmanian Devil Conservation Park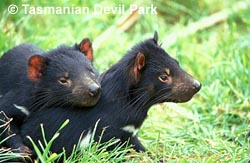 "Come face to face with real live Tasmanian devils at our fantastic new world first habitats at Tasmanian Devil Conservation Park. It is the world's original and best Tasmanian devil visitor centre.
You'll see devils feeding – six times a day – snarling and doing what they do best, crushing up bones and generally being devilish.
See our famous dive of the falcon in "Kings of the Wind" ™ Tasmania's only free-flight presentation. You'll also see friendly little parrots play some unusual tricks and discover how birds can recognize colours.
Hand feed friendly kangaroos, walk among friendly wallabies, take a wildlife walk to see eagles and rare hawks and meet our quaint little quolls, the devils first cousins" (c) Tasmanian Devil Park (link)
5990 Arthur Hwy, Taranna.
Phone 6250 3230
Online Bookings. Check availability, deals and hot rates.